Dame Judi Dench at Theatre Royal Winchester
Peerless performer, Dame Judi Dench, graced Theatre Royal Winchester's stage on Sunday 24 October (2021) with long-time friend and biographer, John Miller. In an evening of conversation with a sold-out auditorium, Judi spoke of the highlights of her career, both on stage and screen, and life during lockdown.
Judi commented, 'Live theatre is important. The last two years we haven't had a chance to be in the theatre, the audience hasn't had a chance to be there. I'm absolutely thrilled to be in a theatre again'.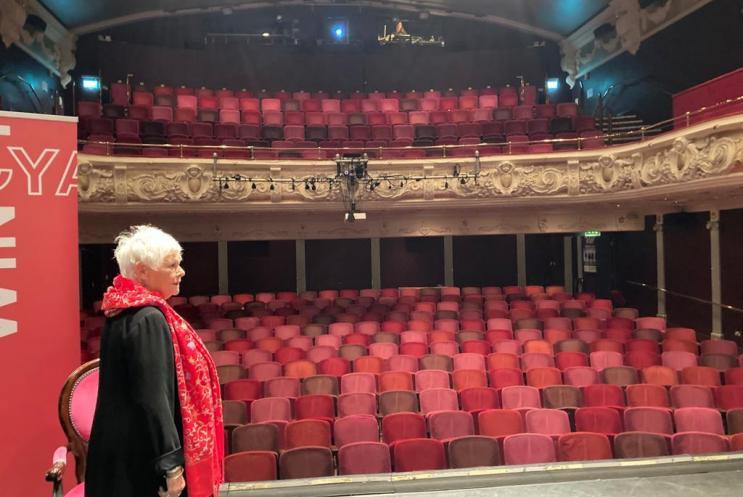 The evening's event was in support of Home-Start, a charity that helps families with young children through their challenging times.
Deryck Newland, Chief Executive of Play to the Crowd, the charity that runs Theatre Royal Winchester, said 'We were delighted to have theatrical royalty with us at Theatre Royal Winchester on Sunday evening. Judi Dench supported our Survival Campaign in the Summer of 2020 and so we were very touched to see her on our stage and in such good form.'
Last year, Judi shared her memories of Theatre Royal Winchester and gave her support of Play to the Crowd's Survival Appeal. She said at the time, 'I remember so clearly my first experience on the stage of Theatre Royal Winchester for the Winchester Festival in 2002. My dear friend Joan Plowright's filming in Hollywood overran, so John Miller asked me to step into the breach and be interviewed instead. The moment we stepped out onto the stage for the sound-check I exclaimed: "Oh, what a lovely space".' 
'I was keen to return for a theatrical performance there, so I asked John to write a show on Great Eccentrics, which we performed with Michael Pennington in 2005, and again with Charles Dance in 2008. It's such a lovely theatre to work in, and I do hope it will reopen before too long, as I can't wait to tread its boards again. Until then I urge everyone to subscribe to the Appeal to keep it going.'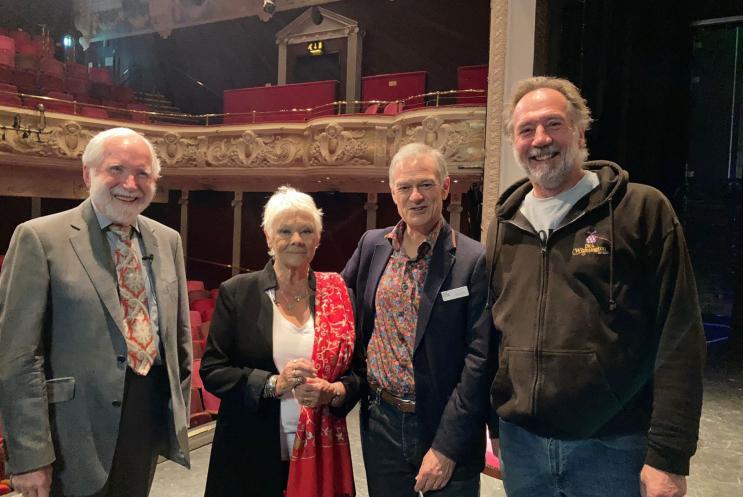 Dame Judi Dench at Theatre Royal Winchester, with friend John Miller (left), and Play to the Crowd's CEO, Deryck Newland, and Technical Manager, Spatz Crawford.
Dame Judi Dench personifies our vision as a charity to Delight and Unite. She did just that for a packed house on Sunday evening.
Deryck continues, 'Judi shared her reminiscences of and funny stories about a career that extends much longer than many of us have been alive. She is such a warm, modest and generous individual. Her purpose with us this time was to support a local charity: Home-Start and, as a local charity ourselves, we were only too pleased to enable this wonderful evening of nostalgia and laughter.'
After the event, Judi surprised fans by signing autographs of her biography.
It's lovely to be back, especially in this theatre, it's a beautiful theatre here in Winchester.