Q&A with James Greaves
Winchester-born performer James Greaves talks to us about growing up in the local area, performing on stage at Theatre Royal Winchester, and his upcoming show Dead Good.
You were born in Winchester, and grew up in Chandlers Ford. What memories do you have from your time in the area?
For me, Winchester is the long hot endless summer of youth. Hanging out in the Cathedral grounds, eating at The Cantina near the Butter Cross long before Rick Stein and Raymond Blanc tore us away from sausage, chips and beans; the water meadows and swimming in the Itchen, the upstairs bookshop section of W.H.Smith's, the Hat Fair festival, and as I grew older, a pint or two at the Wykeham Arms. I'm very fond of Winchester.
You've mentioned coming to Theatre Royal Winchester when you lived here. What was it like coming to the theatre at that time? Do you have a favourite show you remember seeing?
Well, the bar was on the corner of the building and a darn sight smaller back before the refurb. Quite how it managed to serve a whole thirsty audience I don't know. But we persevered. It was always a happy place for me and when I attended Barton Peveril College in Eastleigh, my chums and I would zip over to see stuff. The show that springs immediately to mind was mime artist Jonathan Kay [the founder of Hat Fair] of Attic Theatre, a show called Play For Laughs. It was the funniest show I've ever seen. The theatre was packed to the rafters and long after it had finished I was still weak with laughter and unable to leave the auditorium. Along with everyone else!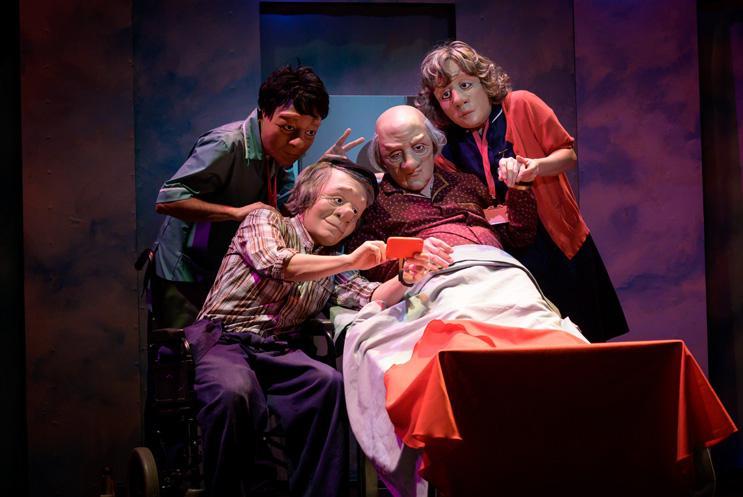 What can Winchester audiences expect from Dead Good?
The show is about two men who meet at a hospice after being given their diagnosis of terminal illness. But... before people run away, it's not so much about dying as about living, and living to the full. Yes we hope that it sparks conversation and thought about how we all wish to finish up, after all, none of us are going to get away with it. But what we portray is a story of friendship through adversity, two men determined to gee each other along to the end. And. Of course, we are a physical story telling company that utilises masks to portray the characters.
The show is performed entirely without words, what challenges, or opportunities, does this bring to rehearsals?
I've been involved in mask theatre for over thirty years and I've always likened it to following in the footsteps of the great silent movie makers, Chaplin, Keaton and so on. The challenge is to find how to tell complex stories without words, and it can be tricky. Luckily, with director Rachael Savage and my old chum Alan Riley, who practically invented the form, we always find a way. Even the silent stars had to cheat occasionally and use title plates. But if you think a wordless piece of theatre is not for you, I quote an audience member I chatted to a few years back who said, 'It was only after the show that I realised you'd never said a word'. The power of visual theatre.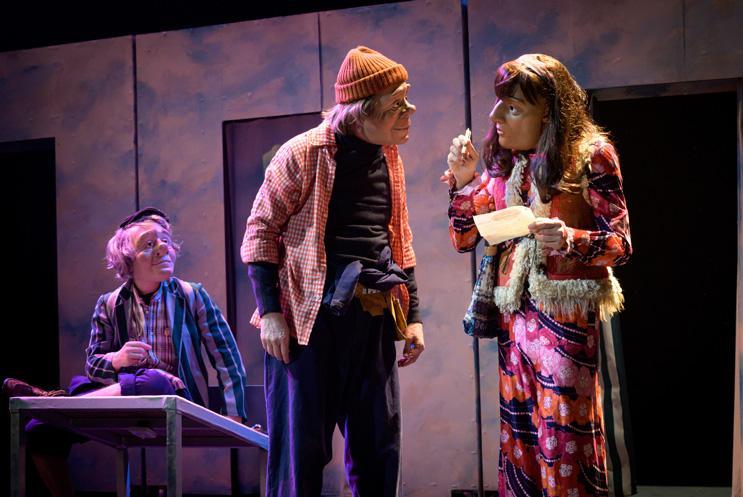 You've performed on stage at Theatre Royal Winchester previously, with Vamos Theatre's 'A Brave Face' back in 2019. What was that experience like? 
A Brave Face was very challenging for me as an actor. I played a young lad who joins the army and returns from Afghanistan suffering with PTSD. As part of what we do, we try to organise Q&A sessions with the audience after the performance. In Winchester, I remember the session led to one particular ex army man talking at length about his military service and what our play had unlocked for him. Sometimes a monologue from an audience member can be a little frustrating for other patrons who wish to ask a question, but this man spoke quietly and eloquently about his experiences for some time and you could have heard a pin drop. It was very humbling.
What are you most looking forward to when you're back in Winchester?
We always get a warm welcome from the audiences that come to see us and we've developed quite a following in Winchester over the years. It'll be like coming home. And, covid permitting, I hope I can catch up with my old drama teacher, Bruce Edwards. Oh, and my mum.
Dead Good comes to Theatre Royal Winchester on Wednesday 16 February 2022.